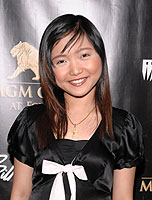 MANILA, Philippines—Filipino singer Charice Pempengco has scored another triumph in her international career when her single "Note to God," released only in the United States, broke into the Amazon.com and iTunes music charts.
Amazon is America's largest online retailer, while iTunes accounts for 70 percent of worldwide sales of digital downloads and is the No. 1 music vendor globally.
She debuted her first internationally released single "Note to God", which was written by Diane Warren and produced by David Foster. The single was also made available for digital download on the same day..